An art student with an acute case of monkey brain trying to organize her thoughts
||
INSPIRATION BLOG
||
JEWELRY
||
PHOTOGRAPHY
||
In the spirit of Halloween…
Last week as I was discussing nude photography and appropriation with one of my professors, I was introduced to Joel Peter Witkin.
J.P. Witkin's photographs are definitely not for everybody. Although they range from aesthetically pleasing soft nudes as in La Giovanissima to ethically questionable still life of non-photoshopped severed body parts (Feast of Fools, 1990), most of them seem to deal with taboos such as death and often incorporate actual corpses.
His strong interest in the latter is often attributed to the memory of a gruesome  car crash he had witnessed when he was just a child.  This dark fascination led him to occasionally work in Mexico rather than the US where the law would not allow him to do so.
When not using such controversial subjects, Witkin manages to maintain a surreal, bizarre, and haunting feel in his artwork through the use of photomontages, models with deformed bodies or unusual props.
His photographs often depict mythological hybrid creatures ( Night in a small town, 2007) and recall famous classical paintings (Gods of earth and heaven, 1988) or other artwork that have been seen over and over again. Nevertheless the unexpectedness inherent to his polemical recurring themes (physical deformities, body mutilation, sexual fetishes, transexuality…) makes his artwork very interesting and innovative in my opinion.
Even though I had a hard time looking twice at some of his work, they were a couple pieces that I absolutely loved especially Woman Once a Bird which clearly appropriates elements from one of my all time favorite photo, Man Ray's Ingre's Violin.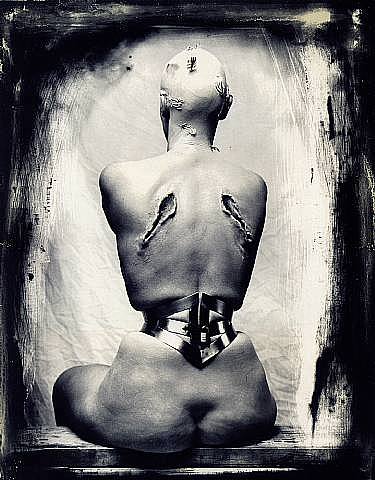 Woman Once a Bird, 1990
I also throughoutly enjoyed his fashion series for the NY times entitled "History of hats in art" in which he creatively combines famous painters styles and luxury brands to create a unique surreal photographs.
You can see more of his work here => http://www.artnet.com/artists/joel-peter-witkin/artworks-for-sale